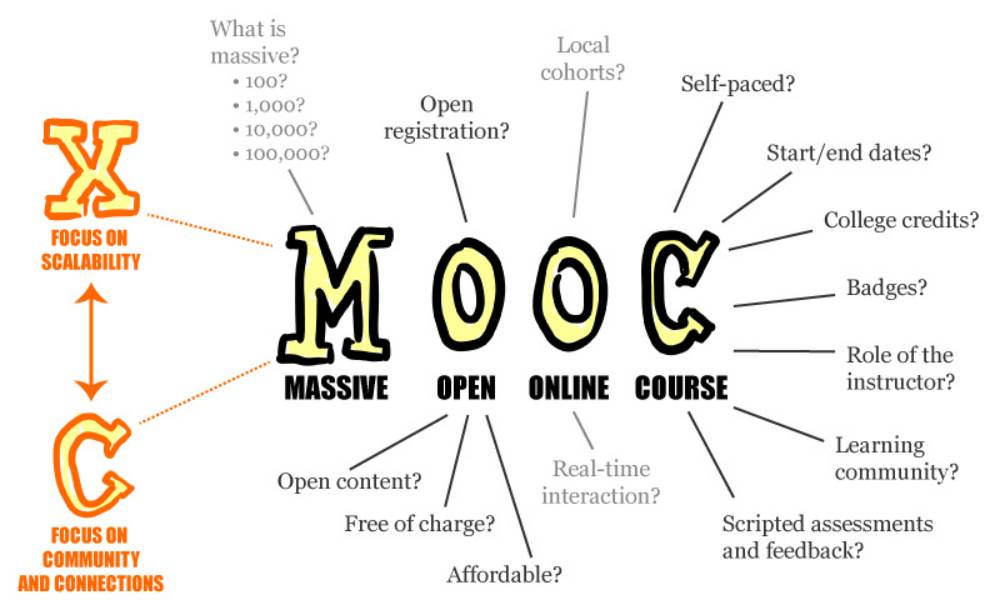 Open Online Courses for the Digital Age
The digital age is upon us and it's moving rapidly. As technologies advance and digital transformation evolves, it's the responsibility of senior executives to upskill themselves and their staff, continuously.
90% of new jobs require digital skills to some degree, and for those working in IT and digital marketing especially, it's never been more important to keep up to date with new market trends and nurture one's skillset. One of the most effective ways to learn new digital skills and keep your organisation's finger on the pulse is by harnessing the power of open online learning.
Commonly known as MOOC, a massive open online course is aimed at unlimited participation and open access via the web by using interactive user forums to support community interactions among students, professors, and teaching assistants.
An accessible, collaborative, and inclusive method of learning for the fast-paced digital age, the number of universities offering MOOCs has doubled to cross 400 universities last year alone. Open online learning is becoming increasingly popular the world over, but which organisations are offering them, and what do they look like? Let's take a quick look.
Today's massive open online course platforms
OpenHPI is one of the world's leading MOOC providers and their main focus lies in mass participation. The platform is easy to access, incredibly intuitive and the digital prospectus includes Javascript development right through to computer science and genetics. Almost all programmes are free to enrol in and last between three days and three months.
EdX is an institution committed to offering quality education for everyone, everywhere. Founded by Harvard University and MIT in 2012, edX is an online learning provider that provides cutting-edge courses on a broad range of subjects, all curated by the world's best universities. eDX is an open-source platform governed by top class colleges and universities, meaning each course is developed to the highest standards.
Stanford is one of the world's most revered educational institutes - and its open online learning platform is no exception. Offering free online courses taught by members of the Stanford faculty, the platform's goal is to provide educational materials to life-long learners worldwide. The courses are varied in subject yet incredibly specific, therefore, offering skills and insights that many other MOOC providers don't.
The benefits of open online learning courses
Open online learning platforms like openHPI, edX, and Stanford online provide an innovative, flexible, and cutting-edge learning experience that can be sustained over time and allows individuals to tailor their education to suit their busy working lives. Not only this, but open online education has the power to:
Bring people together from across the globe and encourage engagement between staff and students.
Gain, and maintain, a competitive edge by offering diverse classes on a host of topics and making it easy for learners to keep up with the latest news and trends.
Allow learners access to subjects previously beyond their reach: you don't need a degree or previous knowledge to enrol in most courses, simply a willingness to learn.
Encourage support and understanding as participants can gain a better grasp of the material and can get immediate feedback on important areas by networking socially via their chosen course platform.
The future of online open courses in the workplace
Your organisation may have recently undergone a digital transformation, or it could be in the throes of one. Either way, for brands and businesses to thrive in the future, it's critical to appoint a strong Chief Digital Officer (CDO) to drive growth by harnessing the power of digital technology and steering your company's transformation in the right direction.
The role of the CDO is vital to ensuring long-term success and not only will open online learning course give the Chief Digital Officer the power to expand on their existing online skillset, but courses like this also make it easy for CDOs to launch effective continuous learning programmes for their staff.
By identifying the areas of digital skills that need development in your organisation, you'll able to enrol your staff in open online learning courses that suits their needs and ultimately strengthen your organization in a big way.
Not only this, but once familiar with open online learning, you can encourage autonomy by allowing your staff to enrol themselves in other relevant MOOCs on a rolling basis, therefore, ensuring your business stays skilled, relevant, and ready for anything.
From human resources to customer services and every department in between, digitisation is changing the way in which we share information, work together, solve problems, engage with our customers, and create brand awareness - and those who take advantage of open online education will reap endless rewards long into the future.
---
4 Practical Examples
of Digital Transformation
Top 5 Marketing
Automation Software
Part II: Interview with
Industry Leader - Lon Safko
The best opportunities for Digital Jobs, Programs, and Conferences
Join DueDigital.com