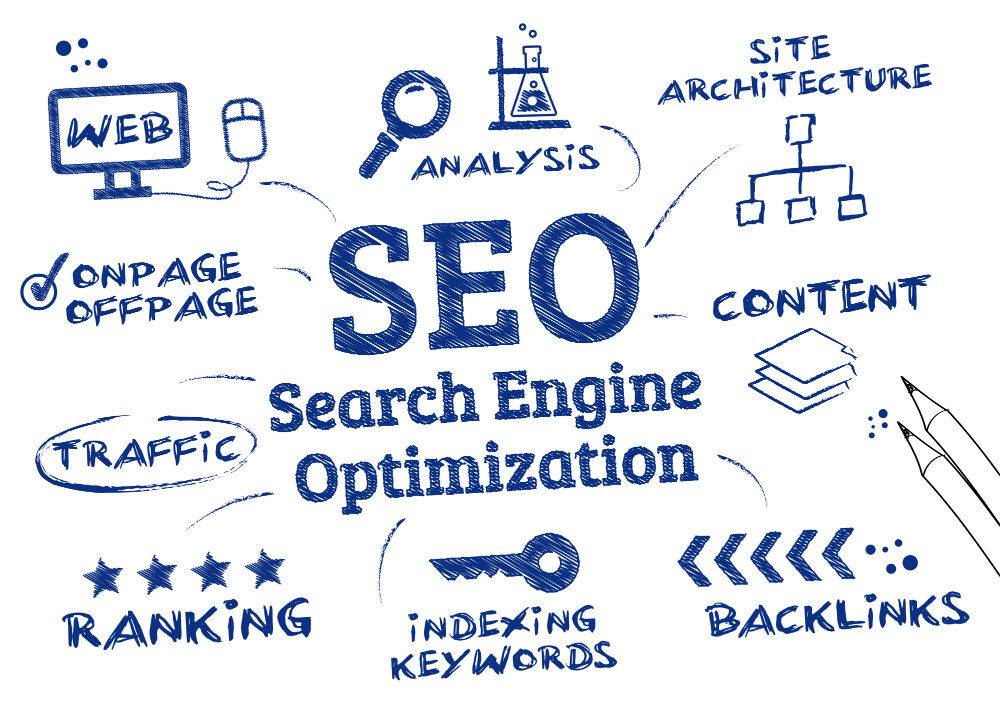 SEO Strategy: Our Top Tips to Guarantee Success
"On a broad scale, I see SEO becoming a normalized marketing tactic, the same way TV, radio, and print are traditionally thought of as marketing tactics." - Duane Forrester, Senior Product Manager, Bing
We think was Duane right. In today's fast-paced digital landscape, having a well-rounded, creative and analytical SEO strategy is vital if you want to ensure long-term commercial success.
According to a recent study, marketers see SEO as becoming more effective, with 82% reporting effectiveness is on the rise and 42% of the same group confirming that its effectiveness is increasing significantly. Google processes around 40,000 search queries per second, which comes in at around 3.5 billion searches a day. That's amazing.
Once upon a time, the search engine or more specifically, the way a search engine worked was relatively primitive. In the modern world, search engines have complex algorithms to make sure they return the most accurate, valuable results possible. Essentially, the Google of today thinks and works like a human, only it's more efficient.
SEO is different to how it was even a matter of years ago and if you want to survive this year and beyond, here are some search engine strategy tips that will guarantee you success in 2017…
Improve user engagement
In addition to rich content, healthy link profiles and relevant keywords, today's SEO also considers user engagement in its search rankings. These metrics include…
Average on-site time

Bounce rate

Conversions
While user engagement is currently considered to be an indirect factor in organic search rankings, it is still important that businesses get it right to ensure their SEO strategy is successful.
By optimising your page elements to ensure your consumers stick around long enough to reach your call to action, your user engagement stats will improve, boosting your search rankings as a result.
The best way to do this is to understand why people are leaving your page. Tools like Plerdy Heat Map and CrazyEgg are great for breaking down the number of clicks made by users on your tracked site pages. From there, you can view which links are clicked the most and least. Based on the gathered data, you can then optimise your site by improving your CTA links and buttons.
Optimise for mobile and rich snippets
In 2017, no brand, business or organisation should overlook the power and potency of mobile. Why? The mobile market is massive, and as such, Google is always trying to improve its search experience for those on the go.
Google's Mobile-friendly update is a step towards mobile search satisfaction, as site owners are encouraged to develop mobile-specific or responsive designs to increase the site's loading speed on mobile devices. A faster loading site means an increased number of chances to retain visitors.
One of the best ways you can win on the mobile-based SEO battlefield is to develop a mobile app for your business. Not only will this vastly improve your mobile search visibility but it will also give you a greater insight into what does and doesn't work for your business regarding on-site mobile development.
Another development in Google's search engine results page is the rise of the rich snippet. These are results that appear towards the top organic search results, and they look like this...
A study from Stone Temple Consulting reveals that rich answers appear on 19.45% of Google search results out of the 850,000 keyword queries used to trigger them. While this isn't currently a huge percentage, it still accounts for a lot of search results, and we feel the rich snippet will become more prominent as the year goes on. Here are some tips on how to rank well for rich snippets…
Rank yourself well for a query relevant to your page content

Start your sentences with

command words

Write a clear, very specific heading with obvious intent

Use <Ii> HTML tags to keep the section short and snappy
Read Google's new search quality guidelines
Although this is by no means the finished article, this document, authored by Google, offers priceless tips, guidelines and best codes of conduct for your SEO strategy. This 160-page search quality guide is available to download here and will help you to keep your SEO strategy well-structured, organised and penalty free.
Here you'll find a transparent list of Google's dos and don'ts as well as ways to make your SEO content sing for certain search terms relevant to your business - just be aware that this is updated with new information on an almost annual basis.
SEO has many layers and forming a successful strategy can sometimes seem like an impossible task. Follow our top tips, take your time and your search results will improve in no time.
Another big development for this year and beyond is machine learning. Understand more by checking out these five practical examples.
---
Don't miss any update on digital trends
5 Top IoT Platforms for
Your Digital Transformation Strategy
5 Practical Examples of
Data Mining and Machine Learning
The 10 Technological Capabilities You Need
for a Successful Digital Transformation
The best opportunities for Digital Jobs, Programs, and Conferences
Join Duedigital.com
Also Interesting

4 Digital Marketing Courses and Events You Must Not Miss in 2017

People who have earned professional credentials and digital marketing certifications are likely to receive starting salaries up to 10% above the market average. What's more, 67% of employers use certifications to measure a candidate's willingness to work hard and meet a goal.

5 Reasons YOU Need to Attend a Digital Marketing Conference

We get it. You have a plethora of excuses for why you don't attend conferences such as, you don't have the budget, the time, or the energy (if we're being blatantly honest.) But if you don't do anything new, or try anything different, how do you expect to produce different results?

Essential Mobile Ad Performance Benchmarks

The world of mobile has exploded. In this day and age, people like to connect with their peers, produce work, share their opinions, conduct research, make purchasing decisions and consume content, anytime, anywhere.